Ensenada; Road trip guide thru the wine country.
In Mexico, the wine route by choice (and excellency) is in Ensenada, Baja California. This magnificent region – that receives more than 800,000 visitors per year – it includes the valleys of Guadalupe, San Antonio de las Minas, Ojos Negros, Santo Tomas, San Vicente, La Grulla, Tanama, Las Palmas y San Valentin.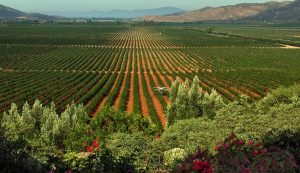 The vineyards are surrounded by deserts, beaches, mountains and forests, beautiful creeks and hidden waterfalls: Ideal landscapes for your trip filled with ecotourism or adventure activities.
Between sommelier guided tastings, bike rides, horseback riding, ziplining (the biggest circuit in Latin America is located here), off road adventures, spas, hot air balloon rides, music festivals and concerts, Ensenada is a must destination for alternative tourists that are looking for a different kind of travel.
Baja California vineyards, oven beyond the famous "vendimia party season" that starts at the beginning of summer and ends the late days of August, can be enjoyed the whole year. This guide will be your compass for your next bajascape.
5 Vineyards & a Brewery
All of them are open for visitors and,  not only do they offer tastings and tours of the installations to learn and see the elaboration process of their wines but also organize other activities.
Clos de Tres Cantos
This place is a true gem, an architectural dream – that has been awarded on several occasions ' with its recycled furniture and walls made of used wine bottles. Almost all materials used in the construction of this vineyard is from recovered waste. You can sleep in one of the bedrooms of their ecolodge thru AirBnB (includes winemaking, tasting & a guided tour around the cellar). 
This place is great if you are into aesthetics & architectural ambiance & without a doubt great wine!
Phone (55) 8568 9240
Decantos Vineyard
This place has an area where local artists share and exhibit their paintings and photography, it also comprehends 40 acres of vineyards with different grape varieties.
Several shows have taken place on the property, like the concert performed by the Philharmonic Orchestra of Baja California.
Enjoy its gardens and take a guided stroll around the wine warehouse by a professional winemaker. Includes a tasting of the Premium line of wines.
Cost: Around 35 USD
Phone (646) 688 1019
Finca La Carrodilla
 A new generation vineyard that produces its own wine based on the trending "biodynamic" agricultural technique (using sustainable practices). 
This is the first vineyard that is "organically certified" for planting, harvesting & final product processing.
Their wine blends explore the local fruity flavors. You can find this place @ Ejido El Porvenir, in Valle de Guadalupe.
Phone: (646) 156 8952
Aguamala
A local brewery  (and one of the most famous) established on the coast of the Pacific, in Ensenada. Currently producing 7 different styles of beer with other variants. Enjoy a fresh beer while eating some of the freshest oysters in Ensenada! They have great food as well.
Visit the tasting room to try those beers out and enjoy some gastronomical delights. Every Sunday they invite a different chef from the area. You can find their beer in Valle de Guadalupe at El Mogor restaurant.
Phone (646) 174 6068 aguamala.com.mx
Corona del Valle
Inside their installations, you can find a restaurant that mixes and combines the flavors and textures of the outback and sea. 
Among the many activities, there are bike rides and wagon adventures. For children's sake, there's a children's area and a farm for them to play for hours.
This place is located in San Marcos, Ensenada.
Phone (646) 947 7705
Alximia
If you're a fan of architecture look no further! This vineyard will definitely captivate you. The work of truly cutting edge architecture, additional to recreating the pupil by being designed in the form of a showcase so that the outside viewer perspective will have the chance to watch all the different steps in the elaboration of the wine.
Also, if you're a dad, you can leave your kids happily playing in the swings, hammocks, or the petanca area (a style of game from the french that's similar to bowling) while you enjoy a wine tasting.
Restaurants
Traslomita
This place is a country-style grill, with a beautiful Japanese influenced garden. In its long tables, you can enjoy the food of highly respected chef Sheyla Alvarado. 
We recommend the shrimp tortas, grilled octopus and for dessert, the traditional Mexican "Arroz con Leche" with caramel and guava ice cream.
Located in San Marcos. This place is so relaxed that you will long to come back as soon as possible!
Phone: (646) 156 8469 
Fauna
The menu, a creation of chef David Castro, is called "experimental" as you will never find the same dish on the menu, it's constantly changing (using local ingredients that change with each season).
The bohemian decor, with soft light and spacious areas that are perfect to contemplate the vineyards and the beautiful starry nights.
Phone (646) 103 6403
Mixtura
A place uniquely committed to the local produce and fascinating flavors inspired in Mexico, Peru & the Mediterranean. 
Our recommendation is to try the Parmigiano pasta, grilled oysters & the wood oven apple pizza.
Phone: (646) 178 6650
Finca Altozano
A grill that uses its products and ingredients from the garden, ocean, and nearby ranches. The Chef Javier Plascencia is the one responsible for the amazing dishes like the garden risotto, the artisanal pasta, the braised beef tacos & the grilled quail in Encino wood.
Phone: (646) 156 8045
Tre Galline
Arguably one of the best Italian restaurants in all of Mexico. 
The atmosphere will make you feel like you are dining in little Tuscany. This restaurant is inside Concierto Enologico Vineyard.
Phone: (612) 119 9718
Corazon de Tierra
For Chef Diego Hernandez the care of the surroundings is really important. His ingredient are organically grown in the yard of the restaurant.
We highly recommend Sundays brunch!
Phone: (646) 977 5538
Where to sleep in Valle de Guadalupe?
Cuatro Cuartos
Glitzy glamping surrounded by vineyards, with a countryside-urban concept. It consists of 12 huge luxurious camping tents (with full bathroom & king size bed).
It also has a spa, restaurant, and a Mezcal distillery + a botanical garden. There is a bar on the premises called Bar Bura that overlooks the cliffs that crash in the ocean. The most gorgeous ocean views in Ensenada.
Horseback & bike rides, as well as hiking, are available for clients.
Phone (646) 1746 789
Encuentro Guadalupe
Situated in the middle of an ecological reserve, Encuentro Guadalupe boasts spectacular views, a restaurant, wine cellar, vineyards that roll down the rocky hills, and a swimming pool.
22 cube-shaped lofts enclaved in the mountain create this futuristic boutique hotel. They have terraces & chimneys. They also offer wine tastings to the general public.
Phone (646) 155 3925
Campera Hotel Burbuja
This Eco-resort with 10 room in the shape of bubbles, that because of its structure and materials allow the watch the constellations in the middle of the light free nights of the vineyards of Valle de Guadalupe.
The beds have a pavilion & between each room, there's a wall of hay that will give you full privacy.
The property has its own restaurant and golf course. You can also find wine tasting here.
Phone (646) 116 7006