Punta Cabra… dunes, huge long beaches and great surf!
An hour south of Ensenada in the ejido Erendira exit you find Punta Cabra amazing dunes on the beach.
Erendira has everything you need for a day at the beach or an exciting, fun, but at the same time a place filled with peace that only nature can give us. Excellent place to launch a kayak, snorkel and, if the weather is favorable, surf. On its rocky shores, you can also fish or collect mussels (choros) for a delicious seafood meal. The recipe is simple: a good pot with white wine where the mussels are cooked until they open themselves. Lemon, butter, and salt to taste. You crave? Erendira has several beaches for camping, but the most recommended site is Punta Cabras. Here you can enjoy two sandy beaches: Media Luna and Bahía Almeja as well as an extension of half a kilometer of rocky coast. There is also a booth with good baths and it is usual for someone to visit you to sell firewood, ice or something else you might need.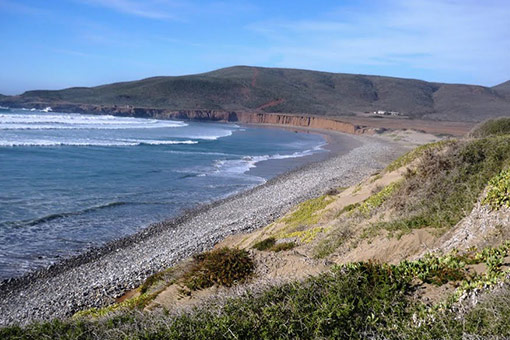 With a swell south, south -west or west this point is great for surfing, you stumble across natural mini pools where you can see the flower and fauna of the region. Do nt forget your fishing pole and if carry your snorkeling kit you'll certainly have a great time.
If camping is not your thing , you have the option of a hostel "Coyote Cal's " . This deserted beach is a taste of the beautiful peninsula.