Amazing best spas in Valle de Guadalupe
Are you finding Baja and Ensenada more and more appealing each summer (or whatever season)? We have done our research and compiled four of the best spas in the Valle de Guadalupe hotels.
Most spa in the area use grape infused products from the Valle de Guadalupe wineries.  The grapes brought directly from the vine to produce the ointments and exfoliants that are then applied during the treatment. Blue grapes possess high quantities of one of the strongest antioxidants in nature, Resveratrol. This chemical process stops the aging of our skin and exfoliates our dead skin cells.  So choose your favorite place from our list below and pamper yourself under the Mediterranean sun of Baja.

Viniphera: The favorite spa in the valley
Address: Parcela 12, Ejido El Porvenir, 22755 Valle de Guadalupe, Ensenada, B.C.
Contact: 52 (646) 156 8055
Accepts: AMEX, Master Card, Visa, Cash // Reservations // Pet friendly
Warm climate, organic products and an architecture that complements your experience.
With 6 options to choose from, selected harvests that will moisturize your feet. Made from grape seed extracts, relax inside a sauna made from French oak barrels, with a body and facial scrub that ends with a relaxing massage with oil grape seed, cost $ 13.00 USD, duration 2:40 hrs.
The second option is "Viniphera" includes all #1 elements, starting with feet and hands hydration grape seed-based ointments. Enjoy a French oak barrel sauna, with a roof terrace that gives you a panoramic view of the valley. Hydration with wine salts and oil a hand and feet scrub with grapeseed, a relaxing hand and foot massage with resveratrol that ends with a wine therapy for hands and feet. cost $ 90.00 USD, duration 2:00 hrs.
The third option is a soothing and antioxidant grape seed-based hydration and a relaxing body massage with aromatherapy. Inside our sauna made from French oak. cost $ 90 USD, duration 2:00 hrs.
The fourth option is "Gran Reserva", begins with hydration massage with grape seed extract. Sauna in our French oak barrels, facial mask with wine mud, body, and facial scrub. Shower inside or outside and finish with a relaxing massage made from oil seed grape and wine therapy for hands and feet on the beautiful terrace, cost $ 178.00 USD, duration 3:30 hrs.
The fifth option is for couples. Begin with grape seed hydration massage, sauna inside our French oak barrels. Body and facial scrub with grapeseed. Choose your indoor or outdoor shower and finish with a relaxing massage with oil made from grape seeds. $ 233 USD Duration 2:40 hrs.
The last antioxidant option is a favorite among brides to be. Moisturizing grape seed massage, sauna in French oak barrels, body, and facial scrub. Indoor or outdoor shower, facial and body mask with wine mud. Finish your session relaxing with grape seed oil massage and wine therapy for hands and feet on the terrace, cost $ 175.00 USD. Duration 4:00 hrs.
All include lunch and wine, you will know which fits your needs, just relax and enjoy the valley. Named best "2016 Spa Valle de Guadalupe"


Hotel Boutique Valle de Guadalupe: Relax in paradise
Address: Camino de los Ranchos #1 Parcela #7 En el Corazón del Valle de Guadalupe right next to Baron Balche, Valle de Guadalupe, Baja California 
Contact: 01 (646) 155 2164
Accepts: AMEX, Master Card, Visa, Cash // Reservations //
contacto@hoteldelvalledeguadalupe.com
The hotel is born like a dream that begins with the purchase of a land of 4 hectares. At that time they never really imagined developing a Hotel, but that is the magic of the Guadalupe Valley, a land full of fruits and minerals that produce life in all its surroundings. That's how this beautiful place came to be and the construction of a family farm began.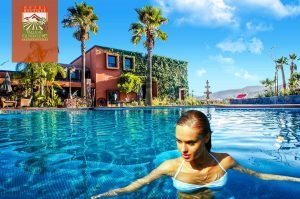 The hotel has the capacity to receive family and friends. There were so much demand and interest from the public that the family ranch opened its doors to all wine lovers and became known as the Hotel Boutique Valle de Guadalupe. Today, they offer hospitality as a primary service and have 21 rooms; Restaurant-bar in which country cuisine is offered with products harvested from the 100% organic orchard.

Wine tasting area and wine cellar tour for guests. Special events such as Weddings, banquets, festivals, outdoor events such as horseback riding, walks to the vineyard area and visits to the most renowned wineries in Mexico. Taste its excellent wine and know the production process inside their cavas. 

Rancho el Parral: Spa with a colonial look
Address: Carretera El Tigre Km 4 San Antonio de las Minas, Ensenada B.C. 22320, México.
Contact: From MEX: 52 (646) 156 8460 From USA: +1152 (646) 156 8460
Accepts: AMEX, Master Card, Visa, Cash // Reservations // 
With a privileged location overlooking the Valle de Guadalupe wineries in Baja California. Rancho el Parral Hotel and Vineyard is a colonial house. A beautiful setting of fruits and trees, gardens and a long slab of stone with more than fifty pine trees. Surrounded by a vineyard with different wine varieties which they use to produce their house wine.
Ideal for special events of just to relax and enjoy away from the hustle and bustle of the city. Here you can find relaxation massages, beauty treatments, reiki and wine therapy.
Here are some of the treatments offered:
RELAXING MASSAGE: A Spa treatment that through gentle movements manages to relax all the muscles, helping to reach the desired rest. $ 850 pesos last 1 hour
HOLISTIC MASSAGE: Through a facial, head and body massage, the necessary balance between body, mind, and spirit is achieved. $ 1250 pesos last 90 minutes
WINE THERAPY: Relaxing treatment through a relaxing massage that leaves your body covered in a red wine and heat bliss. Finish with the treading of the grape and a glass of wine.. $ 1,850 pesos last 2 hours
Cuatro Cuatros: Amazing ocean views and 0ne of the more popular Valle de Guadalupe hotels
Address: Free road to Tijuana km 89, Rancho el Tigre, Ensenada, Baja California
Contact: 01 (646) 174 6789
Accepts: AMEX, Master Card, Visa, Cash // Reservations // Pet Friendly
Cuatro Cuatros installed fourteen cabins between vineyards, mountains, and sea. Designed by Mauricio Rocha and Gabriela Carrillo, for lovers of life, freedom, pleasure, and rest. The architecture and building materials were designed in harmony with their natural surroundings. Against what one might think, it is possible at this time to live an experience beyond all that is traditional and the excess of industry and technology that dominates us. A different experience of travel and stay that exalts our mind and senses, with indescribable landscapes and vineyards, and with all the services of a qualitative hotel immersed in nature. Of all Valle de Guadalupe hotels, this is certainly one of the most sought after.
Cuatro Cuatros also features one of the most amazing bars in Valle de Guadalupe. Sit back and enjoy some exquisite appetizers and drinks while enjoying the majestic Pacific ocean in all its splendor. The bar overlooks over the mountainous bay cliffs washed by the Pacific. Certainly one if not our favorite spot in Ensenada. Enhance your quality of life just by experiencing the breathtaking views!
Check out or Travel info section for driving guides and instructions in Mexico. Don't forget to purchase your Mexican auto insurance Online!