The most stunning beaches in Baja California
The peninsula of Baja California is, without a doubt, one of the most extensive and rich territories of Mexico as far as landscapes, weather stations, flora, fauna, and islands. Being almost (innecesario, esta rodeada) surrounded by  two important water masses of Mexico, the Pacific Ocean and the Sea of Cortez (Gulf of California). They make it one of the most dominant and attractive tourist points for foreigners and nationals alike. The tranquility of its streets, parks, and beaches allow every tourist visiting Baja California to feel safe, especially because police officers patrol the tourist areas and crime has steadily declined over the years.
When traveling to Baja, tourists will be able to witness the most impressive and magical sunsets, festivities that fill each person with joy and folklore, natural spaces that invite you to get to know more about the importance of those hidden spaces, ports, and cities that promise you a party. But if something stands out in this part of Mexico, it is its beaches and bays that make you part of an incredible adventure. Baja has almost an unlimited offer of pristine & virgin beaches, remote coves and islands thriving with beautiful species of animals endemic to this part of the world.
Playas de Tijuana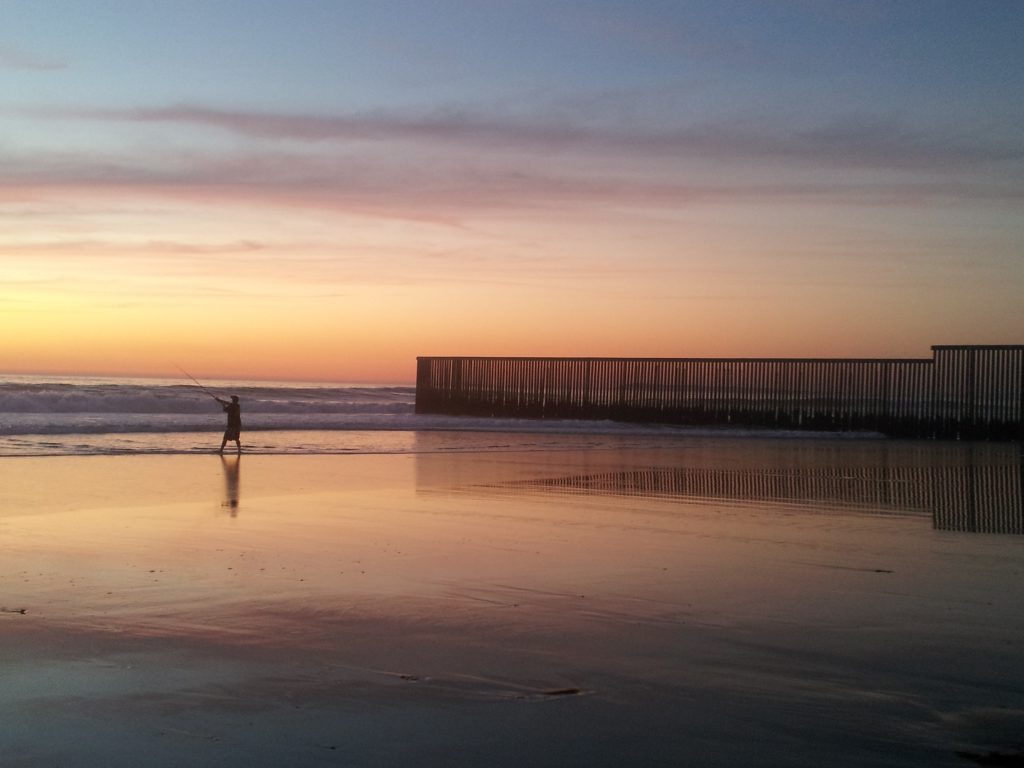 Starting the trip from the point where Mexico begins, we can find the closest beach to the US, literally!. Located on the outside of the center of the most traveled border city in the world, is Playas de Tijuana. Although it is not a popular beach, this space will allow you to enjoy different activities, such as fishing on the shores, perform some water sports such as surf, take a hike while observing the murals and sculptures all along the Malecon, purchase handicraft products from street vendors, enjoy a delicious shrimp or fish taco on the beach restaurants, or watch the sunset while drinking a hot coffee.
Thanks to its proximity to San Diego and the airport, Playas de Tijuana is an excellent option for American residents who want to enjoy life in Mexico without traveling so far from their town. This beautiful beach, being of cold waters since they are part of the Pacific Ocean, is ideal for swimming in summer times, where temperatures can increase to 30 degrees Celsius.
Rosarito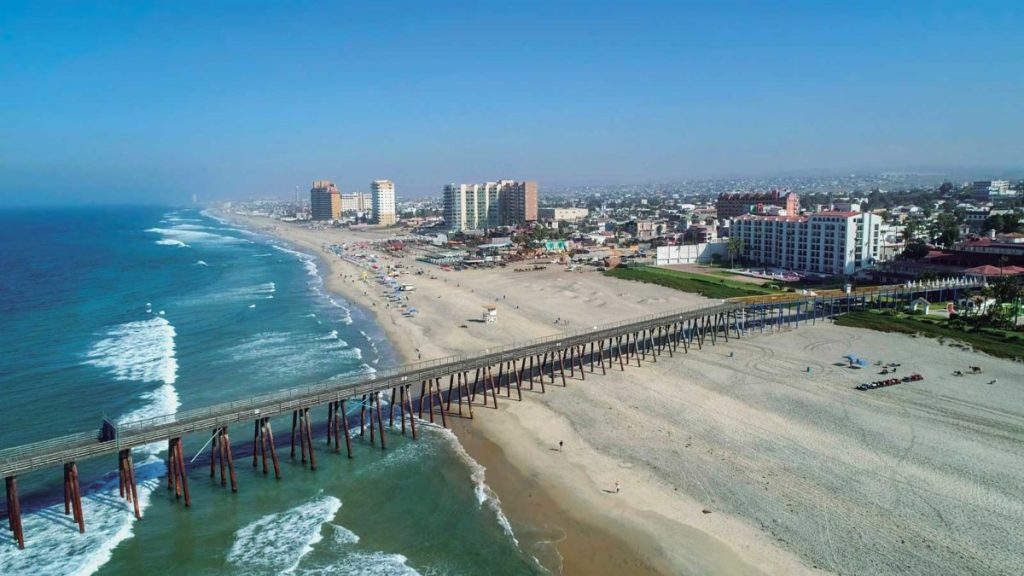 In addition to the fact that Downtown Rosarito is one of the historic popular tourist spots for young people and adults who enjoy the nightlife, this small town offers many water activities; this is because its extensive beaches and the type of waves, it has made it possible to do different sports, such as surf or bodyboarding. Also, the large stretches of sand allow the possibility of horse riding, dirt biking, playing in the sand, or take a hiking trip on the beach in the company of your friends, family, or pets.
Another spot for which this city is so famous is the influential world-famous film studios that were established here around 25 years ago, Fox Studios is located here. Although it was possible to enter their facilities to take some photos in the past, today it is closed to the public. 
Because it is a very popular destination, it is possible to find different food options, either for lovers of seafood or for those who prefer more upscale eating, retired Americans have opened a wide array of different cuisine restaurants in Rosarito. Also, many beach bars and nightclubs will allow you to experience Mexico's nightlife to the fullest. If you wish to visit Rosarito, you will have to make a road trip of approximately half an hour going south. Also, if you want to stay in Rosarito, Mexico, one of the most popular stays is the Rosarito Beach Hotel, which has an outdoor pool, palapas, and public beach or just take advantage of the unlimited airbnb options.
Ensenada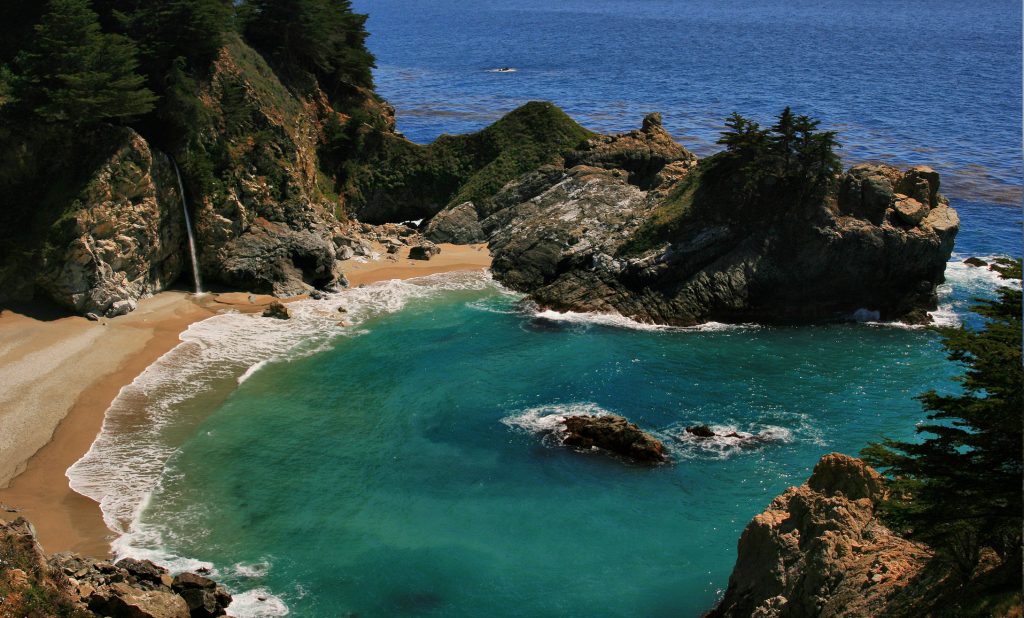 To get to Ensenada, you will have to travel on one of the most famous roads worldwide, with the ocean's most splendid views, the scenic road. Located in the south part of the border city, Ensenada is approximately one and a half hours away; this part of Baja California has one of the most important ports in the whole peninsula, mostly because of fishing activities and the internationally cruise docks. The surrounding coasts are characterized by their white sandy beaches, they are usually a quiet spot where few people go to surf, so it is a swimmable beach with turquoise water; something characteristic of the Sea of Cortez. 
If something emphasizes Ensenada, without a doubt, its extensive gastronomy and cocktails; it's here where the already famous fish tacos were born. If in town, dont forget to try out this amazing local dish. If you are a cocktail lover, you certainly will know that one of the best ones is the margarita; well, at Centro Cultural Riviera, formerly known as a hotel, it is said that this tasty drink was created.
When visiting Ensenada, you should not miss boat trips or boat rental to see whales during their migration routes, guided by experienced and knowledgeable locals of Ensenada's waters. If you wish to stay, there are many hotel and resort options to suit your budget and needs like hotels or Airbnb. 
San Quintin Bay 
This natural lagoon, located in the coastal area of Baja California, gives the illusion of infinity pools where many birds and wild animals rest after long periods of migration. San Quintin Bay is an ideal space for tourists who wish to enjoy gentle waters, a beautiful calm beach for swimming, and short hikes in the area to appreciate this site's natural wealth. In this part of the Baja peninsula, it's possible to find elite gastronomy, especially because the products used by some local restaurants are sourced from nearby areas. Although the beaches around San Quintin are not that famous, they are ideal for taking some contemplative time alone.
Bahia de Los Angeles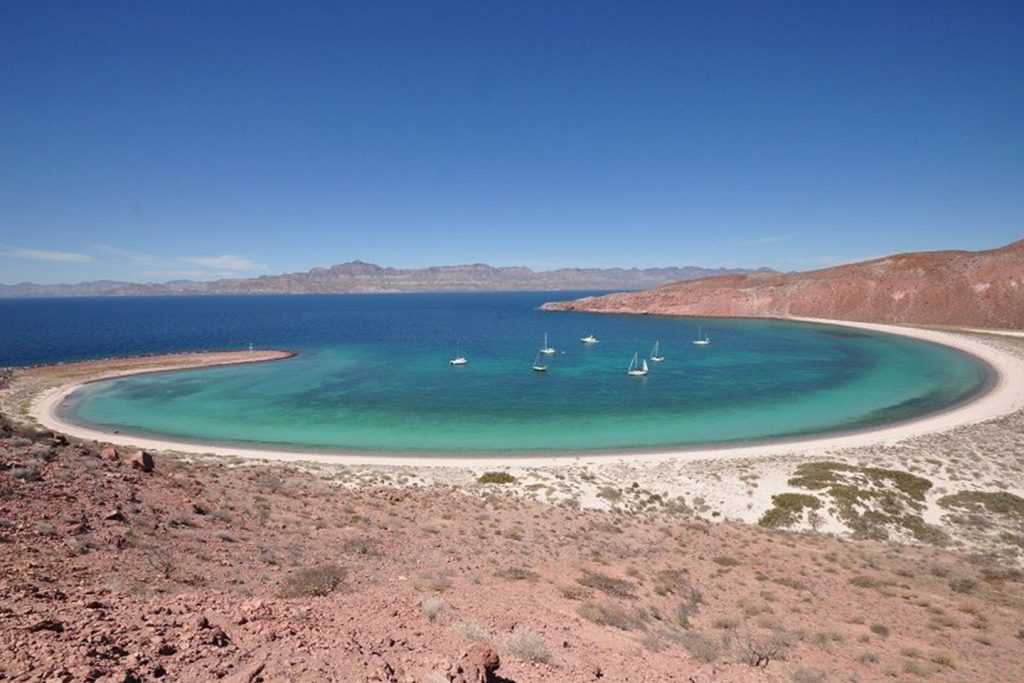 Driving to Bahia is a magical experience, mostly because this tourist spot is known for being one of the best whale watching places in México, dolphins, whale sharks, and other marine animals as well. A peaceful place with calm, shallow and blue waters. It is unnecessary to make a day trip to get to Bahia as it is located within San Quintin's municipality, around the Pacific Ocean and the Sea of Cortez, making these waters and waves kid-friendly beaches and ideal for surfing and boat rides. Within Bahía de Los Angeles, you can find different accommodations, from luxurious resorts and hotels that offer beach clubs, private beaches; to small hostels that are very comfortable. 
San Felipe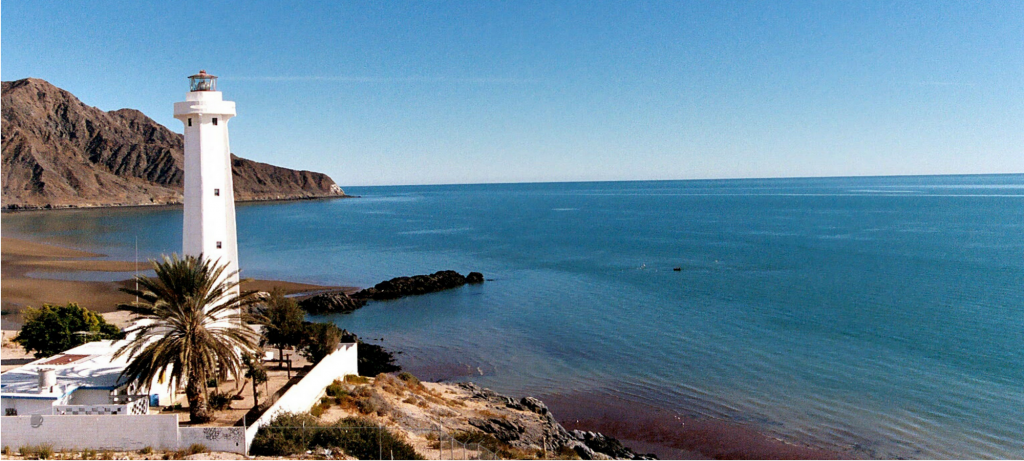 It's another of the best-known beaches of Baja California, especially for its beautiful views, its popularity among US citizens has always been magical. With lots of cliffs and dunes, theres no better spot to bring your quad or motorbike! And because the water temperature of the gulf is super warm and refreshing, you will love to go and take a splash after some heavy duty land sports.. San Felipe's coasts are very frequented because it has an airport, an excellent plus for tourism. The excellent climate, the color of the sea so characteristic of the Pacific, and its hotels with pools and different amenities make San Felipe a perfect destination.
Even though Baja California Sur has popular beaches, such as Cabo San Lucas, San Jose del Cabo, Loreto, Balandra Beach, Cabo Pulmo, Cerritos Beach, or Mulege, and for its islands such as Espiritu Santo, the beaches of Baja California offer many experiences and adventures that will invite you to return to each one of them. Besides, in each of them, it's possible to do different activities, the cities are very friendly… what else would you need!
Before traveling and getting to know the beaches of Baja California, remember to have Mexico auto insurance from Bajascape so that you can enjoy your vacation without any problem.