Top 5 ranchs in Baja for hikers, campers or plain hedonists.
Here is a list of our top 5

ranchs

 in Baja
Rancho la Puerta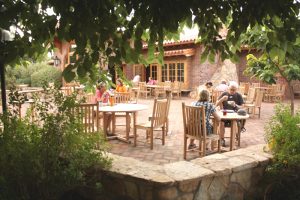 This is not your typical Baja ranch used by off-road drivers passing thru or tourists looking to travel deep into the heart of the peninsula.
If you like to get pampered and feel the need to escape the city daily routines, this is the place for you. The main attraction is the super luxurious spa, other activities include:
Fitness classes
mindfulness reflective
workshops and entertainment
cooking classes
art and nature
If you have an appetite, food from the restaurant is prepared using fresh ingredients from the organic farm, you can even book personal cooking classes. Enjoy one of their many spa treatments.
Arguably the most famous and sought after Spa ranch from US tourists in Baja.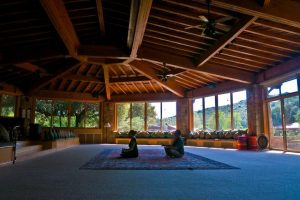 reservations@rancholapuerta.com (800) 443-7565  Tecate, BC.
Rancho Tecate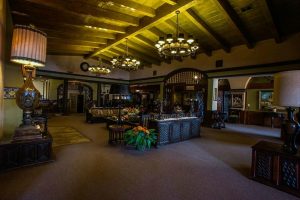 Enjoy nature at its best at this place. The ranch has created a well-built reputation due to its impressive services, attention to detail and impeccable facilities. Its location tucked away from the buzzing city noises.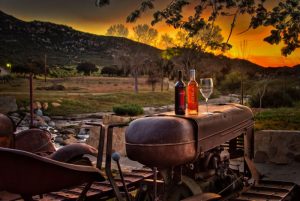 Located in "magical town" of Tecate. Here you can enjoy horseback riding, fine dining and excellent wine from their winery. If you like to watch the cosmos at night here you'll find the combination of no light and smog pollution bring out the most amazing night sky sceneries.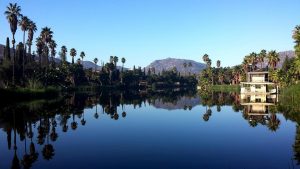 contacto@ranchotecate.mx   USA (619) 376-2277     MEX (665) 6 54 00 11   Tecate, BC.
Rancho Ojai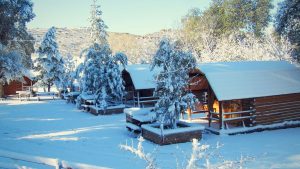 A beautiful western-style ranch. Focused on the more rugged-adventurous tourist.
The ranch consists of several oak cabins with capacity for 2 to 10 guests. For
fun, guests can enjoy the volleyball courts, the game room with pool tables or the bike rides.
If the heat is unbearable take a dive into the freshwater pool.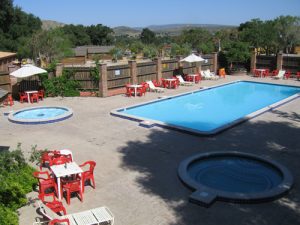 Located 13 miles east of Tecate in rolling countryside
dotted with large oak trees.
reservaciones@campinginbaja.com  01(665) 6 55 30 14  Tecate, BC.
Mikes Sky Ranch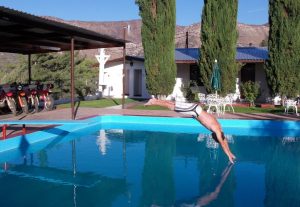 A legend on its own, the world famous Mikes sky ranch. An intrinsic part of the Baja's adventurers places to go.
The ranch has been a tradition for off-road pilots driving thru here of just spending quality time surrounded by Baja's trademark flora and fauna.
This rustic ranch located in a secluded area south of Ensenada (Near Ojos negros) in the middle of nowhere. Hence the appeal it has enjoyed for over 50 decades. The dream of every Baja visitor is contemplated in this western style idyllic cowboy resort that caters to the "roughin" type.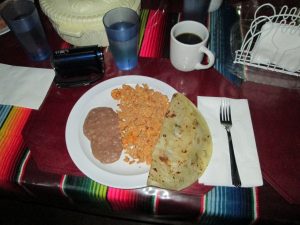 Food is traditional, simple and delicious, I have always enjoyed the basic Mexican food served in small towns across the Baja strip (omelettes, burritos, huevos rancheros, quesadillas).
If you need to quench your thirst head down to the bar for an ice-cold brewski, bad thing is that all services stop at 10 as the ranch energy supply comes from a generator. But don't worry because as the lights go out you will enjoy some of the starriest nights available in the world. Next morning don't forget to try out the pool that is constantly filled with natural
fresh flowing water from the river next to the premises.
Km. 138.5 Carretera #3 Ensenada San Felipe 38.5 Km. After passing Valle de la Trinidad and following the dirt road eastbound for 14 miles. (Located 3 hours from the astronomical observatory)   (646) 6 81 55 14
Rancho Meling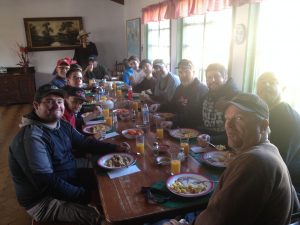 Rancho Meling was founded in the 1800s. It was a mining and livestock ranch. Founded by Mr. Salvador Meling. My great-grandfather Nowadays. It works like a tourist ranch. It has 10 rooms and two family cabins. In total 17 rooms with capacity for 50 people.
These have all the services. Hot water showers, firewood, clothes in each one. Electric light by diesel plant They also a restaurant where guest have their three meals daily.
Camping areas are also available. Pool, sports fields such as Volleyball, basketball, horse rental, cycling and mountain biking and hiking are the available activities. The ranch has 10,000 hectares of pure nature. Trips to the Sierra de San Pedro martyr and transport round trip from Ensenada every Sunday. Hunting of Bura deer and valley quail.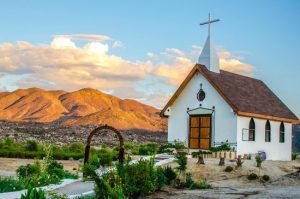 As always I hope you've  enjoyed my latest entry into this Baja travel blog and as always our travels are. If your driving to Mexico don't forget to get the best Mexican auto insurance 
Ivan